The Journey Down Trilogy
Posted by Ric Strictly Limited Games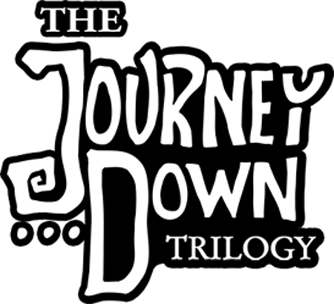 | | |
| --- | --- |
| Developer: | Skygoblin |
| Licensor: | BlitWorks SL |
| Publisher: | Strictly Limited Games |
| SLG Pre Order Start: | 4 September 2022 |
| SLG Release Number: | #74 |
| Platforms: | Nintendo Switch, Playstation 4 |
| Genre: | Point-and-Click Adventure |
The Journey Down Trilogy
The Journey Down Trilogy is a classic Point-and-Click Adventure with an African-Caribbean vibe. Help Bwana and his Friends Kito and Lina to find the lost Journal which will lead to a great journey of enigmatic adventures and unsolved mysteries. In the jungle of the mysterious Underland lurk secrets that foreshadow an unstoppable evil of great power. Together with Bwana, Kito and Lina, unravel the mystery of the Underland and be prepared for many exciting puzzles that will accompany you on your journey.

Gameplay:
The Journey Down is a very intuitive yet difficult point and click adventure game. The game begins with simple puzzles to get a quick impression of the game, but this quickly changes in the course of the first chapter. You can indirectly influence the course of the game by the next steps you decide to take. Thus, the game quickly lets you choose which puzzles you want to pursue more intensively and which ones appear unimportant to you. It's not that easy to recognize the puzzles in the first place. In a playful way, you'll be guided through the main story of the game, encountering picturesque new environments and exciting characters on the trail of the mysterious Underland's secrets. Which mysteries will you get to the bottom of? Which characters will accompany you on your way? Will the three friends Bwana, Kito and Lina solve the secret of the Underland? And what does all this have to do with the disappearance of Bwanas and Kitos father, Captain Kaonandodo? Find out and be excited for an unforgettable adventure in unique settings accompanied by a soundtrack combining various styles.

List of Features:
Point-and-Click gameplay with a great sense of humor inspired by the classics
Get to know a divers cast of characters with vastly different personalities, all voiced by outstanding voice talent who breathe life into each one of them
Explore a variety of locations from sprawling cities to deserts, market towns, ancient ruins and desolate islands among others
Marvel at the unique art style, blending beautiful hand-drawn 2D art with 3D elements
A Jazz-heavy soundtrack, with Caribbean and African influences that sets the mood perfectly

Why part of SLG catalog:
AT SLG we always try to deliver a diverse library of video games, if the occasion arises. And what game would be more perfect than The Journey Down? It not only is an inspired effort by an indie developer, but manages to surprise with its fresh Afro-Caribbean setting and striking character designs inspired by real mask crafted by indigenous African artisans. The backgrounds are hand drawn and also draw inspiration from a variety of sources such as obviously real cities such as Kingston, but also movies like the Maltese Falcons and even Blade Runner. The music fits the Caribbeanflair with its jazzy vibes and really puts you in the mood. Combined with the gameplay and humor, inspired by adventure games in the vein as Lucas Arts' classics and the top-notch voice acting, which features voice actors that have matching backgrounds to their characters, this was an opportunity that we couldn't pass up.
Screenshots