Guns, Gore & Cannoli
Posted by Ric Strictly Limited Games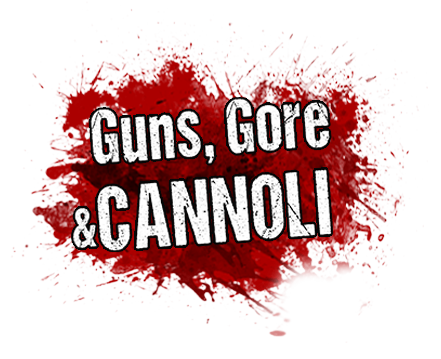 | | |
| --- | --- |
| Publisher: | Crazy Monkey Studios |
| Developer: | Crazy Monkey Studios |
| Published Physically: | 25/02/2018 |
| SLG Release Number: | #4 |
| Platforms: | Playstation 4 |
Guns, Gore & Cannoli – An over-the-top, comical and fast-paced action game with hand-drawn graphics set in the Roaring Twenties. An all-you-can-shoot fest where you embody Vinnie, a mobster with a mission in a city controlled by gangsters and plagued by zombies.
Guns, Gore & Cannoli was developed by Crazy Monkey Studios and the Claeys brothers. A joint venture of two fine belgian companies. With Guns, Gore & Cannoli, they created one of the highest rated Run N' Gun games of the last years.

Interview With The Developers
Crazy Monkey Studios and the Claeys Brothers – who is who?

Guns Gore & Cannoli is a co-production between Crazy Monkey Studios and Claeysbrothers.

Crazy Monkey Studios produces the game and takes care of the promotion and development such as programming, artificial intelligence, user interface and porting to all platforms. Claeysbrothers do the creative part like art, animations & design.

So, how did everything start?

Crazy Monkey Studios and Claeysbrothers have already worked together on some other projects in the past. After this we decided to develop a video game together named 'Guns, Gore & Cannoli'.

What part of this game are you most excited about and what was the greatest challenge?

The fact that we were about to release our first game on Steam, Xbox one, PS4 and Nintendo Switch was really exciting. The greatest challenge for every small studio is by far the financing.  Making a game is a very long, slow and money consuming activity.  We had a bit of government support from the Flemish game-funding program to get started with the development.  The rest is always a balancing practice between costs and return.  It's kind of a leap in the dark because you don't really know how well sales will go. You always have to make the consideration of how much you can spend.

Does anyone of you have Italian roots or why did you decide to go with Italian-American references?

Nobody on the team has any Italian roots.  Actually, the idea for Italian/American mafia concept had more to do with the zombiepart of the game.  We asked ourselves what would make a great zombie story.  Who would have the most chance of surviving a zombie-apocalypse?  Regular people don't have guns.  The army, rednecks, the police… it seemed to obvious and to mainstream.  The guys who really would be able to fend of hordes of living dead relatives would be stone-cold fearless, armed-to-the-teeth gangsters.  To make things more interesting we made up a cool story, set in the roaring 20's.

Vinnie really has some great one-liners that would even please the Duke himself – who came up with those?

Blurting out one-liners while killing enemies just gives so much more personality to character, so we felt that was a must have for Guns, Gore & Cannoli.

During the entire production of the game everyone of the team would come up with some good one-liners.  Even the voice actor came up with a bunch of great one-liners.  Every line that made us laugh during production was put into the game.  The juicier the better.

What games are some of your biggest inspirations, graphics- and/or gameplay-wise?

There were various games that gave us inspiration for making Guns, Gore & Cannoli but one of the games that really sticks out is probably the Metal Slug series.  When we played the game as a kid in the arcade halls we were immediately hooked.  The very violent gameplay combined with the very amiable cartoon figures gave the game this great ring to it.  It's a game that is not only fun to play but also to watch.  This is something we also strived to achieve with Guns, Gore & Cannoli.

Other great games that inspired us are Max Payne and the Mafia series of course.  The wiseguys in Max Payne are very funny, even when they're not fighting.  The dark scenery of the underbelly of New York is something that we also hoped to create in our game with the obscure setting of the notorious 1920's.  Which brings us to games like Mafia, which was perfect in its way of portraying the era, with the typical tommy guns and the old jazz music and cars.  The offset is really not all that different from Guns, Gore & Cannoli… except for the zombies of course.  For the zombie part we really love games like L4D and the Resident Evil series. Even though Guns, Gore & Cannoli is an indie-game we hope it will be a great experience for players, we really did an effort the come up with a nice story with cool dialogues and cut-scenes to add to the action and fun of the gameplay.

What's your favorite Italian food?

I guess I should answer with 'Cannoli' but then I would be lying. It's PIZZA!

Why Strictly Limited loves this game
Guns, Gore & Cannoli is  a fun action shooter with lots of great humor.  In contrast with other zombie games you won't play with a nice guy who's struggling to survive the zombie-apocalypse.  You'll play with a though, merciless mobster with very flexible ethics.

The game offers a kick-ass campaign mode featuring our mafia hero Vinnie Cannoli in a range of moblicious cutscenes. After you've completed his story you can switch to versus mode where you can duke it out with expert AI in 7 unique battle arenas. Make sure to load up that Tommy gun if you don't want to be blown off the map!

Both modes can be enjoyed in 4 player local multiplayer, with players choosing one of 13 different skins

We hope friends will enjoy the game together without having to wait for their turn to play.  Just be sure to have enough controllers for everyone!

Guns Gore & Cannoli should not only be fun to play, but it should also be a blast to watch.
Screenshots & Trailer