Gryphon Knight Epic
Posted by Ric Strictly Limited Games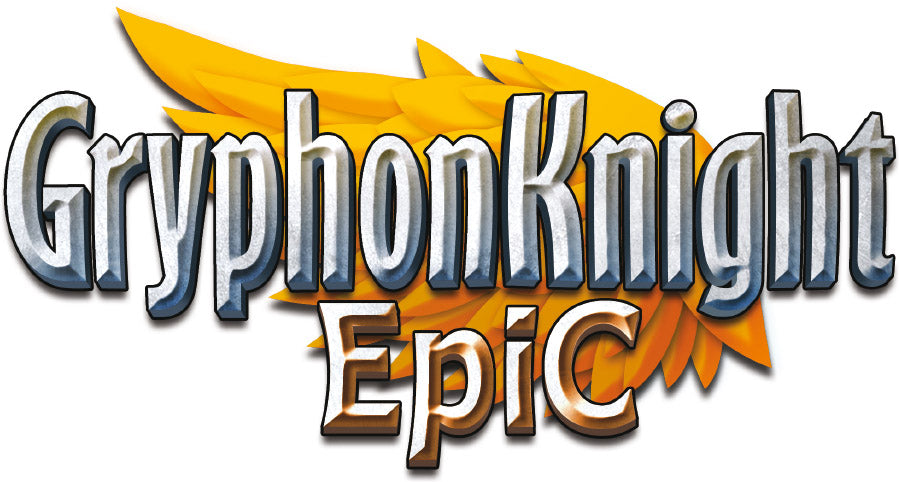 | | |
| --- | --- |
| Publisher | Cyber Rhino Studios |
| Developer: | Cyber Rhino Studios |
| Published Physically: | 17/12/2017 |
| SLG Release Number: | #02 |
| Platforms: | Playstation 4 |
Gryphon Knight Epic is a 2D Medieval Shoot'em up that mixes elements from classical shoot'em ups, exploration and duel-like boss battles. It tells the story of Sir Oliver and Aquila, an accomplished knight and his loyal gryphon that are forced back to adventure once again.
Sir Oliver has already defeated a dragon, married a princess and saved the kingdom. But during his quest he will face adversaries he never imagined he would, because… in reality all of them were once friends. What happened? These heroes would never go rogue… and all at once? Something is rotten in the kingdom and its up to Oliver discover what.
Fight your way through 8 hand-crafted levels
Duel with challenging bosses and get their weapons
Explore the stages to find equipment for your character and bits of ancient lore of the world
Enjoy challenging gameplay and pixel art graphics, just like old times
Interview With the Developers
How did you get involved in Gryphon Knight Epic?

Sandro: Well… I kinda got other people involved in it. 😀  I've been trying to get a team together for at least 9 years before GKE but something always failed and I never got to finish a project. I was super lucky to meet Joe and Daniel. We were all working at another company and then the three of us came totether. I invited them to the project and we started to gather once or twice a week to make GKE. Later we saw the potential of the game and decided to take the leap and work on it full time. It took us two years and a half of hard work to release it.

Dan: For a long time I wanted to work on a game that I would like to play myself but never had the opportunity. One day Sandro Tomasetti asked me if I was interested in joining him and Joe to work on a game and I said yes!

Gabs: I've worked with all the members of the team  and they knew my art. And I have followed the project closely since the beginning because Daniel Kai was the only artist on the team, until they requested for help from more artists and have asked me to work with them.

Joe: Sandro and I used to work together at a gaming company in Florianópolis. We became close friends and began to talk about developing a game. From there we had some ideas and decided we needed an artist. DanKai (who worked at the same company) was an obvious choice, not only because of his skill, but because of his dedication.

What would you say was the most difficult part during the development of GKE?

Sandro: For me, it was the PC release day, hands down. I had big expectatives and the sales were, to say the least… underwhelming. We got some bad reviews and these setbacks took their toll. But, we stood up and fixed the issues of the game on the first week post release and since then we got nothing but good feedback. Some time later we got good sales on the consoles and all went back to normal. I took this experience to heart and learned a lot from it.

Dan: The launch of the game and how the first players reacted with the game.

Gabs: For me, as an artist, the most difficult part was to keep focus on better performance and to produce the assets in a short time. The volume of assets was too big for just 2 artists and pixel art takes time.

Joe: Toning down our expectations. Yes, there were a lot of technical challenges, but those could be solved with a little bit of studying. But there is no way a game you're developing will have everything you want. Choosing what stays and what goes is really hard!

You've done a Kickstarter campaign to fund the development of the game. What are your experiences with Kickstarter and would you recommend it for Indie Game Developers?

Sandro: We had great experience with KS, it was a lot of work to put the campaign in place and running it from Brazil is a bit expensive, but in the end all was worth it. It payed for an extra artist, sound and QA! For indie developers, I would say it is worth it if you have good stuff to show, I recommend that you have at least a core gameplay working and a fairly decent art.

Dan: I've never pushed the F5 so many times in my life. It was at the same time a very exciting experience and a very stressful one. The support and feedback of the players are the best part, but not knowing if you will be funded was the most stressful part.

Gabs: I closely followed what was happening all the time because the outcome of this campaign decided whether I could be hired or not. I was a little anxious because the goal was only reached near the end of the campaign, but I'm glad it worked out. Every dev team has the chance to deliver a messagte to their target audience and to get theproject funded – Kickstarter has helped us, but I know not everyone wins.

Joe: Hard to say… Sandro was our "producer" and was responsible to deal with all the "boring" stuff. I guess if you have a good, sensible plan, know the platform, and maintain you expectations, it can work. But you gotta study. There are a lot of laws, taxes, and unexpected quirks.

Tell us a good memory regarding GKE?

Sandro: My most cherished memory related to GKE is the following: I was on my honey moon at Universal Studios theme park in Florida. I was wearing a GKE t-shirt when the guy who sells the photos of one of the roller coasters pointed at me and asked: "Dude, where you got that T-shirt? This game is amazing!", I told him that I was one of the developers of the game we took a picture together and I left with a big smile. To have the game recognized this way is why I signed up for this… it makes everything worthwhile. 😀

Dan: Working on a game that felt like the ones that we have played as a child was very exciting.

Gabs: The magic to see the whole game working for the first time. Each character animated and moving through the stages, the parallax effect of the background, everything so vividly. Love it!

Joe: Hard to choose one. Recently, at my current job, the girlfriend of a colleague of mine was bored waiting for us to finish work. Being a good friend, GKE is in his Steam Library, so he recommended it to her while she waited. She is not a gamer, and he, initially, did not say it was a game I developed. She played and was having a blast! I was so proud, it was awesome! She usually does not finish games, but she was determined to beat GKE. Yeah, that kind of stuff makes it all worth it!

What's your favorite character and stage from GKE?

Sandro: I would say Asterion Hornedson or Lorraine Learn… it's a difficult choice. But since my favorite stage is the Sea Level (Lorraine's level) I'll stick with her.

Dan: My favorite character is Asteion Hornedson because it is a minotaur mounted on a rhino. The pirate bay is my favorite stage (and the one I've spent the most time on).

Gabs: If Sir Oliver is an obvious choice I would say Zafira Faris.It is hard to choose only one stage, but I love Zafira's stage too – Al-Sharaf desert.

Joe: Favorite character (aside from Sir Oliver, of course) is Zafira. I like the knightly types. Favorite stage is the Sea stage. DanKai did a beautiful job, and it is the most shmup-ish of the stages.

There are plenty of Shoot 'Em Ups. Which is your favorite and what SHMUPs inspired you to create one yourself?

Sandro: Ikaruga, I really like the elegance of the black and white modes. About inspiration, our main one was Mega Man (I know it's not a SHMUP) but we tried to mix elements of the blue bomber into the SHMUP genre and I'm fairly proud of how it came up!

Dan: Ikaruga is my favorite shmup. Mega man, R-Type and Gradius were our inspirations.

Gabs: To tell you the truth, I did not play many shmups after River Raid, none of them scored me as much as this one. When I joined the project, the genre of the game had already been chosen but I am always motivated to work with art, regardless of the genre of the game. At the moment my preferred shmup is GKE itself.

Joe: I love Lords of Thunder, easily my favorite SHMUP. But Gradius was a constant source of inspiration. We got inspired a lot by the Mega Man series as well. GKE is a mixture of game genres.

What are your favorite video games?

Sandro: This is an easy one… being a huge nerd myself I already did my top 100 games of all time list. My top five are: Zelda: Ocarina of Time, Chrono Trigger, The Curse of Monkey Island, Mario Bros. 3 and Resident Evil. But, since the release of GKE… I have put it on top, not for excellency but just for being my unforgettable first one.

Dan: Super Mario Galaxy, Resident Evil 4, The Legend of Zelda Breath of The Wild, Starcraft II

Gabs: Rayman Origins and Legends. But I have a lot of fun with racing games like Mario Kart. I can't stop playing as I love to compete with others.

Joe: Chrono Trigger is, by far, my favorite. I love strange old games like Star Control 2: The Ur-Quan Masters. Crusader Kings 2 is a current favorite. My taste in video games really varies hugely.

Quick trivia: favorite food, color, sport and super-hero?

Sandro: Steak, Melted Cheese and French Bread – Black… no… Reeeeed – Soccer, I'm Brazilian and I can't help it – Batman

Dan: Pasta, blue, soccer and Wolverine.

Gabs: Anything with mushrooms, green, volleyball and Wonder Woman.

Joe: Food: Vatapá (A regional dish from northeastern Brazil). Color: Purple. Sport: Team sport – American Football. Solo sport – MMA. Super-hero: Batman.

And last: Cat or Dogs? Marvel or DC? Beach or Mountain? Star Wars or Star Trek? … and most importantly… the chicken or the egg?

Sandro: Had both and I love them both… but if I had to choose, I would go with dogs – Marvel – Mountain, no sun, no sand… glorious – Star Wars, light sabers… enough said – Egg? It can be done in so many ways… boiled, scrambled, fried, poached… infinite possibilities. Yummy!

Dan: Dogs, Marvel, house, Star Wars, the egg.

Gabs: Dogs, Marvel, both, Star Wars, the egg.

Joe: Cats. Marvel. Mountain. Both! (really, it changes every year. Though I tend to prefer Star Wars). The egg… c'mon… Science!
Why Strictly Limited loves this game
Mystic Riders, Cotton, Harmful Park, Kyuiin – these titles let our hearts beat faster. But even though shoot `em up gems like Parodius or the aforementioned games captured the hearts of so many fans worldwide, they have become extremely rare nowadays.
Cyber Rhino Studios wanted to fill the gap and we are very pleased by the results of what has started in 2014 – Gryphon Knight Epic is a cute `em up game with wonderful pixel graphics that remind us of the good old days. Boy oh boy, have we missed this!
Sandro Tomasetti and his team do not only give us that warm feeling of familiarity back, they also provide a simple but entertaining story mixed with some exploration elements, hardly typical of a classic 2D shmup.
The background is full of lovely details. So many that you most likely won't realize them all on your first playthrough.
It has been a while since we reached out to Sandro and explained to him our business model and that we would really love to do a physical release of GKE. We did not even have a website back then but he entrusted us with his baby.
Now it is time to pay back the trust he and his team have placed in us and we hope you will enjoy this game.
Screenshots & Trailer