Steredenn: Binary Stars
Posted by Ric Strictly Limited Games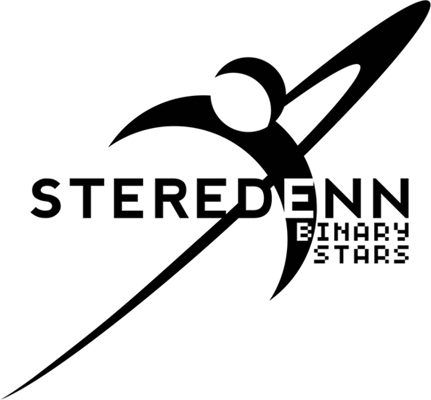 | | |
| --- | --- |
| Publisher: | Plug In Digital |
| Developer: | Pixelnest Studio |
| Published Physically: | 29/07/2018 |
| SLG Release Number: | #8 |
| Platforms: | Playstation 4 |
Steredenn is a highly-praised classic 2D side-scrolling shoot 'em up with flashy boss battles and wonderful pixel-art.
This hugely expanded version Steredenn: Binary Stars provides the ultimate package on disc.
Pierce through the stars either solo or with your friend in local co-op.
Dodge an insane amount of enemy bullets, face the worst scourges in space.
A whopping total of 5 ships, 42 weapons and 30 upgrades offers tons of customization options.

Enjoy near infinite replayability and forge your own path across the universe.

Interview With The Developers
Who is Pixelnest?

Pixelnest Studio was created in 2014 by us, Damien Mayance and Matthieu Oger. We're a tiny french studio. We're both software/web developers interested in video games.

How did you find together and got into game development?

We met in college — we passed the same Computer Science degree at the same place.
We just clicked together well and thought it would be nice to work together for our own studio, be it on a kitchen mobile app or a video game.

Now for Steredenn we had some freelancers to help us:
– Plus (Simon Coroller), the pixel artist, is a friend of Matthieu;
– Etienne, the sound designer, was a coworker of Plus;
– Zander, the musician, was an unexpected wonderful match. We found his music via OpenGameArt and we just contacted him directly to create original tracks for the game.

Why did you want to develop a SHMUP?

Damien: Technically, Steredenn is my… third shmup! I did a small student project (The Great Paper Adventure), then we made a tiny shmup contract work before Steredenn for a local festival.

Both: So we had some good pieces of code and some experiences on the genre and we thought "let"s add nice graphics and release a game in 3 months!".

It took 18 months and we added so much more than expected, but Steredenn is definitely a combination of circumstances.

Shoot Em Up games tend to be really popular in France. Did this affect your decision?

Not at all. We knew some french shmup superplayers before starting, thanks to the Stunfest (http://www.stunfest.fr), but we're not part of this community.
We're not even really shmup players ourselves.

Steredenn has some awesome pixel graphics. What is your point of view on 3D vs 2D games?

We knew Plus, and we were amazed at some early ship prototypes he made for a different project. The fit was obvious.
But in our case, pixelart was also a choice of reason. Considering our low budget and the short time of production, it was the only way to get good looking graphics and a lot of animations.
Also, 3D requires more technical knowledge (lightning, texturing, post-process, rigging, animating, etc.) that we did not have. And a cheap 3D game will not look good, whereas with 2D you can use a lot of tricks to display some cool effects or animations.

What are your top 3 SHMUP games of all time?

Damien:
1. Ikaruga (<3). I know we all agree on this one.
2. Sexy Parodius. I love the mission system and the random order of the levels.
3. Jamestown. Beautiful art, awesome soundtrack, coop, polished.

Matthieu: I liked Jamestown, and played some old shmup (Thunderforce) but I'm in no way capable of making a top 3… sorry!

Steredenn (and Steredenn: Binary Stars) is the first commercial game you've released. Are you currently working on another game you could give us some hints about?

Currently we're doing some prototypes, trying some new technologies and having fun, nothing too serious. And there's always some support to do for Steredenn. We are also working on a small mobile game… but that's all we can say!

Thank you very much for your time! Anything else you would like to add?

Thanks for this great physical edition of Steredenn!
And many, many thanks to our players who made Steredenn and Binary Stars possible.

Why Strictly Limited loves this game
Shoot 'em ups will always be a stylish fast paced thrill ride. A bit of Technosoft, Konami or Irem here, some patterns from Toaplan or Cave there, Sterdenn captures the style of games from decades ago in a fitting way and transports the genre into the 21st century.

Being a frantic and chaotic space shooter, the beautiful art style with its large pixel sprites sets a perfect stage for fast paced action with hordes of enemies and a crazy arsenal of weapons. The general balance and feel of the game is one we haven't experienced done this well in a long time.

This may come as no surprise, given the numerous awards this game has won. But as we are not the biggest fans of rogelike-elements, we were sceptical how randomly-generated parts would work within a genre, where it is crucial to memorize level architecture and enemy attack patterns. Thankfully, instead of leaving everything to chance, the groups of enemies are still mostly orchestrated and very well thought out by the devs, but the attacks of the bosses or the power-ups are random each time you play.

Steredenn: Binary Stars requires precise playing skills and punishes mistakes mercilessly. Yet every achievement feels rewarding and gets us fired up, wanting for more. The game is hard, but each failure teaches a valuable lesson, improving your skills as a pilot and enabling you to better understand the gameplay mechanics and the upgrade system, which boosts its replay value sky high, keeping us glued to our seat. And speaking of upgrades, there are plenty of them in Steredenn and we are still eager to find out the best combination for our individual style of play.
Screenshots & Trailer